TL;DR & Summary
Local SEO is an untapped gold mine for local businesses. I'd recommend having a strong business profile for local searches than a strong social media presence. With over 200 million businesses & places listed on Google maps, it's something you can't ignore as a local business. Local SEO, just like SEO, is not a one-time thing. Invest in maintaining a good profile on Google maps & consider it an integral part of your marketing efforts.
Three steps to having a strong business profile on Google maps:
Represent your business as is & create content that gets you conversions
Let people get in touch with you for legitimacy & have updated information all the time
Enable structured data on your business website to get a boost on SERPs
---
Google maps have over a billion users a month. In this issue, I will be talking about the content policies & strategies to get results from the biggest local search engines.
People use Google maps to discover 'service-based businesses & places. This makes the platform a gold mine for converting warm leads without much effort. The content you create for your Google Business Profile is your second chance to acquire customers. First is obviously ranking for the queries your users are searching on Google.
Not many are taking Local SEO seriously, even though a billion people use the platform every month. Google sources & uses the information added on Business Profiles, which is why it's very important to add relevant information to your Google Business Profile. Only after this creating content for your profile will mean something.
When you optimize your business profile, you can win even in a highly saturated industry. Here's a case study of a Local Taxi business that leveraged Google Business Profile to beat giants like Uber. While everybody is focused on creating content for social media, Google maps is a highly untapped gold mine that is light years from being saturated.
Over 200 million businesses & places have been listed on Google maps, out of which very few businesses create content for their business profile on Google. Furthermore, a huge percentage of those who do, are failing to create click-worthy content. With this issue I will teach you, a local business owner, to get discovered on local searches on Google & Maps.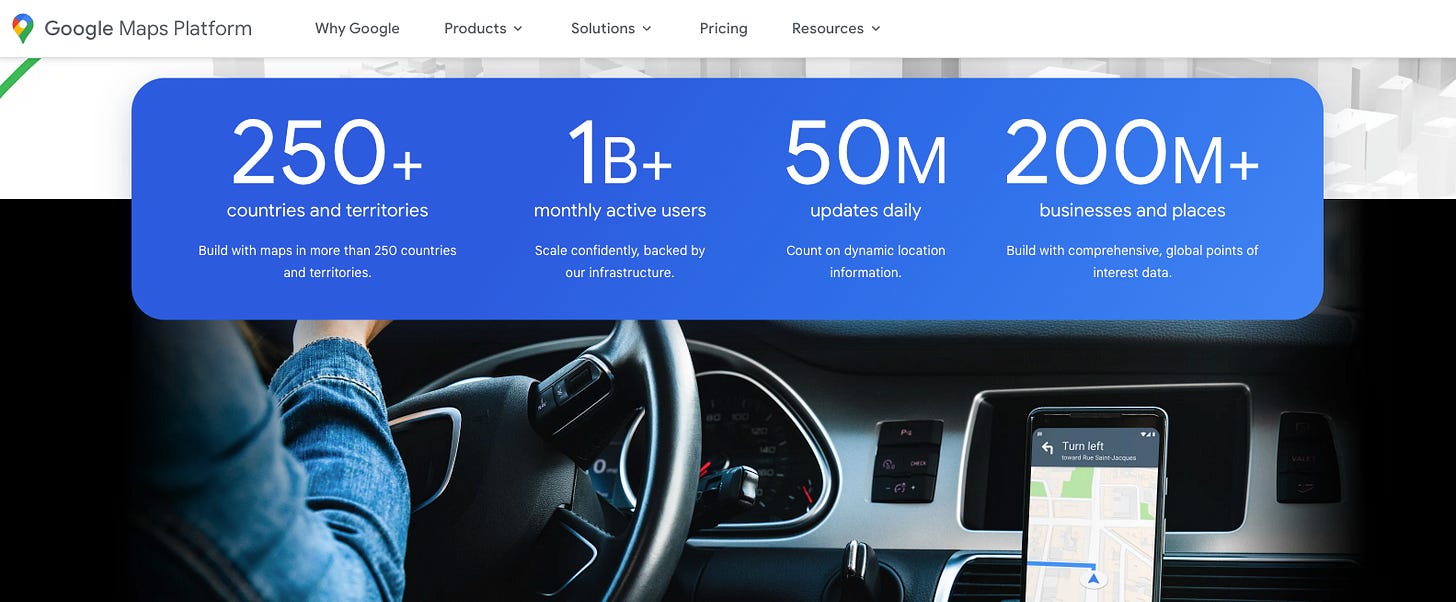 Before we talk about what you should do, let me shed some light on what you shouldn't. This is to identify & familiarize the mistakes beforehand.
What are the mistakes that cause the suspension of Google Business Profiles?
This is a major problem since a lot of listed businesses get suspended without being aware of the mistakes that have caused the suspension. Here are some most common reasons:
Irrelevant content: If you have outsourced content creation for your business profile, instruct them to avoid creating irrelevant content. Remember, people who search for businesses like yours, are not looking for alternatives. They're warm & ready to make a purchase. Serving irrelevant content may push them away.
Spammy content: I don't need to emphasize much on this much. But Google has declared a war on spam. So much so, that they released a full-blown algorithm update around reviews. Which was the most polluted section that they had to manage. Duplicate content is also spam.
Inappropriate content: The content you publish shouldn't spread hatred, violence, racism, or give preference to a specific gender. There's always a gray area, stay away from that as well.
Private content: Local businesses such as immigration consultants publish details of the people who've they have helped immigrate. This isn't allowed. Avoid it.
Check out the detailed Business profile content policy published by Google. Refer it with a pinch of salt & always consult an expert before strategizing your content.
Now that you're aware of what should be avoided at all costs, let's see how to make the most out of a business profile on Google in 3 simple steps.
Step 1: Represent your business appropriately & create content that gets results
Since you're operating as a physical store, you'd need to take extra care of how you represent yourself on Google. Don't think too hard, represent it as you would do it in the real world. Ensure the exact address is added as it's the most important detail for the customers to reach you. Adding more categories doesn't help in any way, so don't do that. Add the most accurate category(s) of your business.
Have only one business profile per business. Logically, there's no way you'd create multiple business profiles for one business. Check out full-length guidelines for representing your business on Google published by Google to understand the details of the topic.
Once you have your business rightly represented on Google, it's time to create content for your business profile. The posts you create won't rank directly, but when a user searches for your business (not specifically yours) the posts will show up under your listing (if ranked) and add value to their intent. You can talk about offers, products & more. I've found two posts talking about this in great detail. Check out here & here.
Note: See how Google maps works & handles 1 billion monthly users
Step 2: Enable messaging & keep the information updated all the time
Google houses over 11 million fake businesses falsely claiming to be nearby. Despite being one of the most efficient systems, this is what the giant is dealing with. These businesses are creating two unsolvable problems. First, they're scamming their customers when they're most vulnerable. Second, they're shadowing real businesses from appearing on searches.
Google is suspending such accounts left & right without prior notice. If you don't want to be mistaken as a fake business, enable messaging so that customers can get in touch with you. This signals Google that you're a legit business. Sure, a fake business can set up messaging, but customers can figure out the legitimacy.
Furthermore, you should also keep your Google Business Profile updated with the latest information. Posts are the best way to do that. Create event-based content & publish it as posts to keep yourself relevant.
Prominence is a ranking factor for local searches. Prominence means how authoritative your business is. Google takes into consideration the mentions (links to maps or embeds) and several other factors to prove the legitimacy.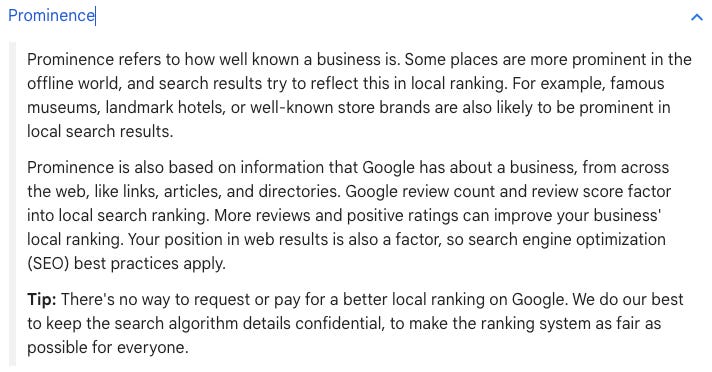 Note: Distance is the primary factor for ranking so having a physical store at a prominent location will surely help.
Step 3: Enable structured data for your map listing on your website
I couldn't find the source, but nearly 5 million businesses (not sure of the latest number) have active links on their business profiles. These are claimed businesses, that is, these businesses are owned & managed by the business owners. I couldn't find the number of businesses that are unclaimed, I'm sure the numbers will be huge.
The point I'm trying to make here is, out of over 200 million listings on Google maps (places & businesses) only 5 million have added websites, I'm not even talking about adding structured data of the map on their website. Imagine your ranking & traffic if you add structured data.
When users search for a local business-related query, Google shows a knowledge panel containing results fetched from Google maps. These are the results that have integrated structured data of their Google maps listings. Create a few pages (contact & about page) with the structured data & use the URL inspection tool to see if the changes are deployed correctly.
Also, make sure these pages aren't tagged noindex in the robots.txt file, have submitted the sitemap & are accessible by search engines. Once everything looks okay, request recrawling those pages.
Note: You can let users make reservations, book & pay right from the search results themselves using Maps Booking API. Use Structured data codelab by Google for more help.
---
If you're looking forward to winning online, here's how I can help:
Sit with you 1-on-1 & create a content marketing strategy for your startup. Hire me for paid consulting.
Write blogs, social posts, and emails for you. Get in touch here with queries (Please mention you found this email in the newsletter to get noticed quickly)
Join my tribe on Twitter where I share SEO tips (every single day) & teaser of the next issue of Letters ByDavey.