Reading time: 5 minutes
TL;DR & Summary
Everybody wants to rank #1 for all the keywords. But, what are the odds that they do? Most people will fail to rank for any keywords. The reason? Poor understanding of what ranks #1.
Most people think that including keywords in the first paragraph, in the URL, and in H1 means you've optimized your pages for target keywords.
I have to disappoint you that SEO is way more than just keywords.
If SEO was all about keywords, anybody can outrank the number of times a keyword is mentioned on a page – numbers are infinite.
Search engines have gotten smart enough to identify poor-quality pages. Search engines don't need to understand the page based on the keyword (and its variations)
Optimizing a page for a keyword is more brain work than fingers. Once you understand how search engines have changed, you'll follow the pattern the next time you create a page.
By the end of this issue, you will be able to:
It's easier than ever for search engines to identify poor content
You think stuffing keywords or maintaining a 'score' is the way to get ahead of your competition. It's not your fault.
A lot of misconception has been floating around on the web. It's not surprising that everybody is talking about one and the same thing. What you know isn't wrong, but it's not relevant anymore, it's outdated.
You need to know how search engines work & how they rank pages. You can repeat the steps for your pages & enjoy evergreen organic traffic.
If optimizing for keywords was the way to go, search engines wouldn't rank pages without mention of the keyword even once.
It's not that I'm going to share any classified information & nobody knows about it.
It's on top of every established SEO's mind. Ask them about keyword optimization and they will say what you're going to learn in this issue.
There are several publishers who still fall prey to these techniques that will go obsolete in the future & they will have to redo everything.
If you happen to follow the path laid by search engines, you don't have to worry about the updates in the algorithm. Gone are the days when focusing on keywords would work out – it still does but it's nearing extinction.
If you continue following the obsolete steps, you will do irreparable damage.
Here's what search engines prefer to rank for their users
If you don't already know Google doesn't use meta keywords for web ranking. It's manipulative & outdated.
Search engines have evolved enough to completely end the reliance on keywords. That's to increase the efficiency of the results that the end users get.
Google prefers to answer based on semantics. Google algorithm now understands the adjectives. That is if you search for how old was tony stark when his parents died. You'd still get an exact answer. That's how deep an understanding Google has. Thanks to semantic search
Based on the intent of the searcher, it's evident what type of pages rank on SERPs. Google focuses on the intent of the question & extracts only a specific part of the page that addresses that intent
Trending questions are hot topics for the day. But, trending searches aren't short-lived. Sometimes, trending searches are seasonal. For example, right now, FIFA is a trending topic. So any content that you post around this topic will get rewarded by the search engines. This topic will be relevant until the finals of the FIFA world cup'22
Direct answers are most likely to rank faster. This usually is optimizing for featured snippets. Search engines prefer providing answers on the SERPs. Leaving the decision to "know more" to the user with the link to that specific part of the page.
If this makes sense to you, let me share how to sail the boat with the search engines so that your efforts don't sink.
Step 1: Analyze the SERPs
Most people skip this step, or worse, have no idea that this step is a best practice. If what you answer isn't what's served by the search engines, there's no point doing it anyway. Search engines spend millions studying the users and their intent. This is to match the search results with the intent.
When a user searches for "photoshop alternatives", that means they don't want to pay (or can't).
Step 2: Identify the search intent
Once you've analyzed the SERPs, you will get a gist of the intent. With that in mind, you should frame the outline of the content you're creating. Continuing with the previous example.
When a user is searching for "photoshop alternatives" they're looking for a free alternative.
There's pretty much no paid alternative that's worth paying for, other than photoshop.
If I were to write (which I will) a post on alternatives for photoshop, I'd focus on suggesting free alternatives only. Everything else is secondary.
Matching the intent is half job done. Google, in 2019, released a core update, E-A-T (Expertise, Authority & Trustworthy).
This core update was to rank pages that came from experts (to reduce spam) who were most likely to match the intent.
The subject matter experts would know the intent of their target audience which they'd address in their content.
Step 3: Optimize for search intent
When I say optimize for intent, I don't mean that keyword research is dead. Keyword research as a concept might become obsolete. But, keywords will never go extinct. The way they're used might change. Like it has changed right now.
Search engines have shifted their focus from keywords to intent.
Like the one used to optimize for keywords back in the day, now you should optimize for the intent.
Someone who's looking for "photoshop alternatives" is into graphic design help. They're either a pro or a beginner. It's better to touch both extremes as sub-headings.
This will address both ends of the spectrum & match the intent. Think of the questions that a user might have related to photoshop & graphic designing.
The user would be looking for a comparison, pricing of photoshop, free version of photoshop, if photoshop is worth the money, etc.
If you want to optimize only for pro users of photoshop, address only those questions that are relevant to the pros. Don't touch the beginner questions.
You can create a separate post & interlink. You'd get 2x traffic for all the keywords both the pages rank for.
A quick Google search showed me a bunch of genuine questions that need to answer in one place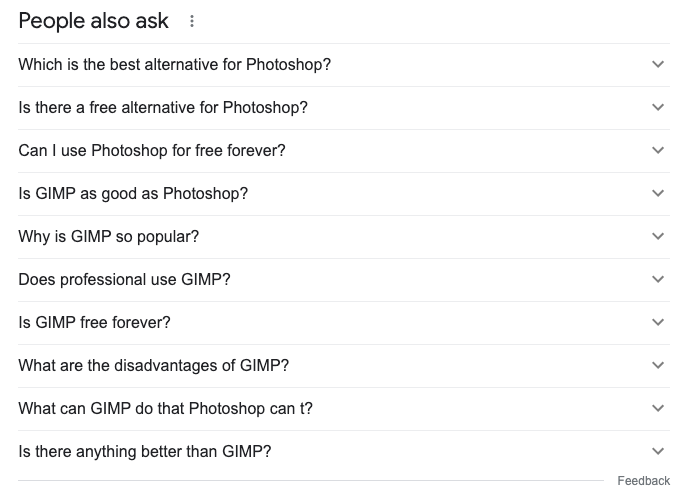 Search engines are past topical optimization (let alone keyword optimization). Topical clusters still help, but it's much better than optimizing for keywords. Keywords do nothing but mislead you. I recommend checking out a guide by Ahrefs that will help you with On-Page SEO. It's very important to understand this concept by heart. If you focus only on On-Page SEO, that's more than enough.
---
If you're looking forward to winning online, here's how I can help:
Sit with you 1-on-1 & create a content marketing strategy for your startup. Hire me for paid consulting.
Write blogs, social posts, and emails for you. Get in touch here with queries (Please mention you found this email in the newsletter to get noticed)
Join my tribe on Twitter where I share SEO tips (every single day) & teaser of the next issue of Letters ByDavey.