Reading time: 4 minutes
TL;DR & Summary
You're planning to launch a website, maybe it's a site for your new startup. Even though you have done it before, you have experience doing it, you're still skeptical. You want to make sure you don't miss anything fearing you might get blindsided.
At present, when people question if SEO is dead, expecting them to get the site technically ready for the traffic (in terms of SEO) is foolish of me. It's not their fault, SEO hasn't been understood properly & I understand if you too don't have SEO as a high priority. The worst that can happen is you'd lose a chance to tap into the evergreen source of organic traffic.
Getting your site ready before search engines & your audience finds you is utterly important. What you have to do is not at all demanding. You just have to fix a few small things that will have a huge impact in the long run.
Here are 3 simple steps to get your site ready using simple SEO-related steps without making it a subject of worry:
Understand that it takes time to index, no matter what
Once ready, request Google to crawl your pages & IndexNow to instantly crawl by Bing
Optimize for mobile-first indexing. You can't ignore it.
---
When you're working on a website that will be the face of your business, it's almost the default to neglect SEO unless it's unavoidable. This negligence is the reason why most new sites don't get the head start that it deserves. This is why it's important to understand the importance of preparing your site for the traffic that you're anticipating.
Most of the time, sites that don't do the due diligence related to indexing, may end up in an infinite loop of fixing-requesting to recrawl-fixing. When you're trying to get your pages indexed, you won't be able to focus on what actually required at the moment, that is why I recommend prepping your site before this process begins.
Sure, all search engines take time to index pages, especially new ones. Once indexed, it hardly takes any time to index new pages that you publish in the future. One thing to keep in mind is that indexing doesn't mean your pages will rank for the target keywords. There's a lot that goes into this process after pages get indexed.
Think of indexing as your date saving your number to their contact list, does this mean they'll call you immediately? You'd have to nurture your date and spend some more time before you get on frequent calls. This is how indexing on search engines works as well. First, it takes time for search engines to save local copies of your pages in their database (that's all indexing literally means). Next, the algorithm will rank the pages based on several factors.
But why indexing is so important? Let's find out
Why indexing should be a priority (especially for new sites)
Here are some reasons why your site should get indexed as soon as possible, before launching your site.
Once launched, a lot of journalists, bloggers & publications will cover your story. This will create waves of traffic toward your site. If your site isn't indexed beforehand, you're not going to get any SEO benefit that comes with it because your site isn't ready for the benefits.
Since your site has never been rendered in the index before, it will never be eligible for ranking for the keywords you aim for. Crawlers will crawl the pages as programmed, but as a site owner, it's hygienic to request search engines to crawl your pages.
You might also have considered spending on search ads. Chances are, customers may search for your brand after interacting with an ad. If not indexed already, they won't find it on search. Obviously.
If you're planning to do a lot of PR (which will wear off with time), an unindexed site will fail to impress search engines as the time between first crawled & first indexed might be significant.
Once you understand why indexing your brand new site is important before the official launch, let me share 3 of the most important steps to prepare your site for the grand launch.
Step 1: Understand the timeline
Google takes time to index pages, let alone rank. The documentation says it takes four days to a month & in a video from the #AskGooglebot series, John Mueller says highly relevant pages get indexed in less than a week. However, Google has never guaranteed that all the pages of a site would index & what's index will be shown to the end users. So if you find someone claiming that they can make this happen, stay away from them. They're either not aware of Google's stand on indexing or lying to you.
Step 2: Request Google to index pages in advance
When the development of the site is ready, it's time to request search engines to crawl your pages. Depending on the webmaster you use, in most cases, it will be a Google search console. There are multiple ways Google can crawl your pages. One of the basic steps to ensure successful indexing is to create a sitemap & submit it on GSC. Crawlers will look for updates in the sitemaps which contains all the URLs on a site.
Bing has rolled out the support to IndexNow, which is a free service to instantly crawl websites published on Bing webmaster tools. You can use that as well. Even though the market share isn't significant, when you focus on the number of people who use Bing & not the percentage, you'll be convinced to use the tools Bing provides.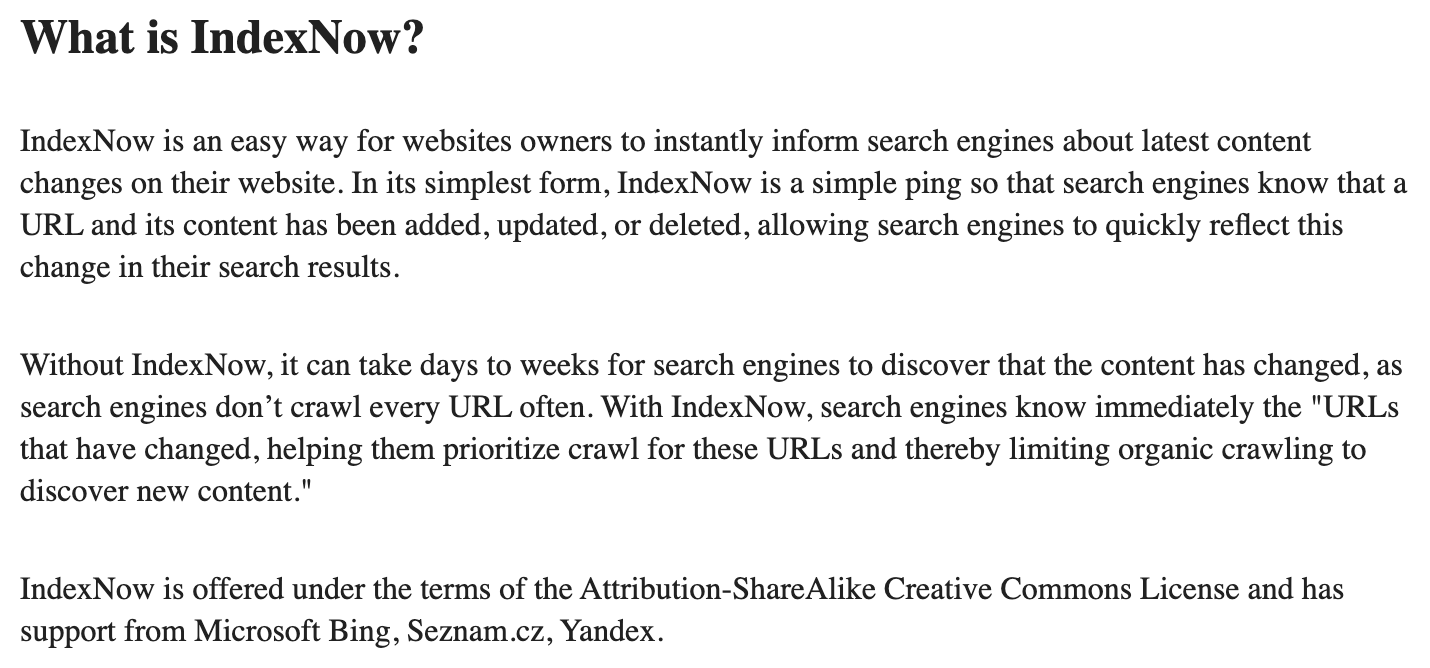 Pro tip: Even having a Twitter profile help in indexing. Obviously after being requested to crawl as a site owner.
Step 3: Prepare for mobile-first indexing
To a lot of sites, Google has set their smartphonebot as a default crawler. This forces users to optimize their sites for mobile devices. You don't have a choice but to optimize, since you cannot choose which bot Google should use to crawl your pages. With that being said, here are some best practices to make sure you don't upset your users on mobile devices.
Use the same meta tags for robot files on the mobile & desktop versions. This avoids confusion for the incoming spider & saves a lot of time. Search engines are highly likely to fail to crawl either of the two versions.
Lazy loading is a technique used to load elements as & when users scroll through the page. This saves the page faster & saves time. However, lazy loading elements that require user interactions will not be rendered. It's important for Google to see the elements that are lazy-loaded.
Clearly define the pages you don't want Google to crawl in the robot file or the individual page. Tagging no-index will instruct search engines to exclude the tagged pages from indexing. If you have images, make sure you follow the image best practices laid out by Google for the best user experience.
To end this issue, I want you to think of one simple logic. It takes weeks to index a new site. Wouldn't it be great if search engines pick it up first before the publications do?
Since nobody knows about the brand, it won't be searchable. Not even by your competitors. So not need to freak out fearing that your brand will start ranking before a proper launch.
---
If you're looking forward to winning online, here's how I can help:
Sit with you 1-on-1 & create a content marketing strategy for your startup. Hire me for paid consulting.
Write blogs, social posts, and emails for you. Get in touch here with queries (Please mention you found this email in the newsletter to get noticed quickly)
Join my tribe on Twitter where I share SEO tips (every single day) & teaser of the next issue of Letters ByDavey.Thanks for reading Letters Bydavey! Subscribe for free to receive new posts and support my work.