TL;DR & Summary
People begin their purchase journey from a search engine. Most of the time, it's to learn more & make better decisions. Implementing rich snippets on your ecommerce site can help you get in front of your audience a lot faster.
Google is showing more and more search results with rich snippets, and search results with links to ecommerce sites are no exceptions.
Now is the right time to update your site to drive more organic traffic from search, or best, sell on Google.
Here are 3 simple steps to get started with rich snippets for your ecommerce sites:
Write high-quality product descriptions
Organize your site's structure to help users find everything wants
Implement structured data to list your products on the Google Merchant center
---
The pages that show up on search results have been crawled way before searches happen. The same happens with ecommerce sites. 68% of online experiences begin with search engines.
People search for things they want to buy on search engines. It can be a part of research or an actual buying journey. You can get in front of people who're looking to make a purchase.
If you learn how to optimize, you can get discovered by your customers.
When you help search engines understand your pages, they can fetch relevant details. This can help your customers better decisions. A confused mind never buys.
Take a look at the example below of a rich snippet from Amazon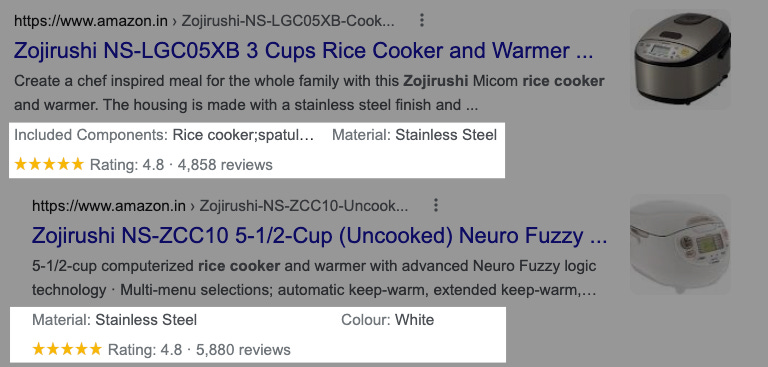 Think of structured data as the common language that all search engines understand. Rich snippets are the product of structured data & the reason why people don't use structured data is the complexity that comes with it.
Those who have implemented it, may not be maintaining it. Apart from doing the SEO of the page, one also has to make sure the rich snippets are working fine (the search console helps a lot with this)
This issue talks about rich snippets for ecommerce business, let's dive right in.
4 Most fruitful Ecommerce rich snippets
Before we see how to make the most out of rich snippets, let me share some rich snippets that will work in your favor.
Product Snippets: Displaying extra information right on SERPs would mean winning their attention. Once they're in your territory, converting becomes so much easier. Depending on the product, search engines will choose to show relevant details in SERPs, as shown above.
Reviews Snippets: To show reviews of your products in SERPs, you need to implement a property named "aggregateRating". Fake reviews will get your listing on SERPs banned, especially after a dedicated algorithm update on Product Reviews.
Offer Snippets: You can show stock & offer specific details about the product. Use properties like "availability" (In Stock, Out of Stock, PreOrder, etc), "ItemCondition" (product sold as new or used) "price" you can specify the price range & your products will be eligible for price drop tags
FAQ Snippets: Occupy more space on search results with FAQs related to the product. With FAQ schema, you can show the most important questions your customers have to be more relevant to them.
LocalBusiness Snippets: If you're selling products online, there's a very high chance you'd have a physical store as well. Leverage 1 billion active users of Google Maps using Google Business Profile.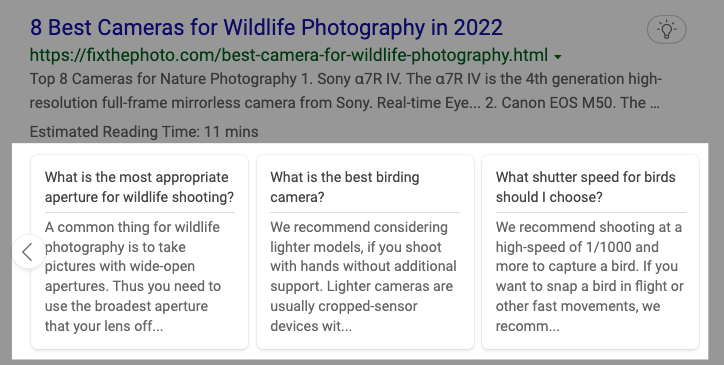 With that said, let's take a look at 3 simple steps to have rich snippets for your ecommerce website
Step 1: Write high-quality product descriptions
Each product page is your salesperson's. Craft the whole page with this in mind. When you create a product page, make sure you have covered all the perspectives that your audience will have at the time of purchasing. You may not get all the perspectives in one go, but let them evolve with time.
You can also show a short demo of what your product/service can do for the customers. Don't too talk much about the product/service, but talk about the benefits it can bring to the user's life. You can include numbers about the performance of the product/service.
Step 2: Help search engines understand the site's structure
This is to make them understand the most important pages on your ecommerce site. Creating a category page in the menu is the simplest way, to begin with, further down, add sub-category pages & product pages under that.
As the number of product pages increases, you might fail to include the links to those pages in the category pages. Double check on this, as it will lead to search engines never discovering it.
If you can't link all pages, include & submit the sitemaps to search engines. At least, that way search engines will have some source to look for new pages on your site.
All your efforts to bring organic traffic to your site will go down the drain if users can't find what they're looking for in the shortest way possible.
Step 3: Optimize for Merchant Center Feed
Google has come up with a Merchant center to help ecommerce businesses. Adding product data to the merchant feeds can help you sell to people who're searching on Google's ecosystem. Plus, since you have provided data that would show up on SERPs, your products will stand out because of Rich Snippets.
Since you will be selling in the name of Google, (customers won't know who's the seller) you will need to abide by the shopping policies for Merchant Center. Google will show your product listing across various Google properties.
Merchant center functions on the data you provide, there's no product listing as you do on Amazon or any other marketplace. You define the attributes of your products & Google will sell those as its own. If you've never heard of this, here's a step-by-step guide on Getting started with Merchant Center from Google. Once you've created & set up your account, refer to this Product data specifications page to learn more about adding products to Google properties.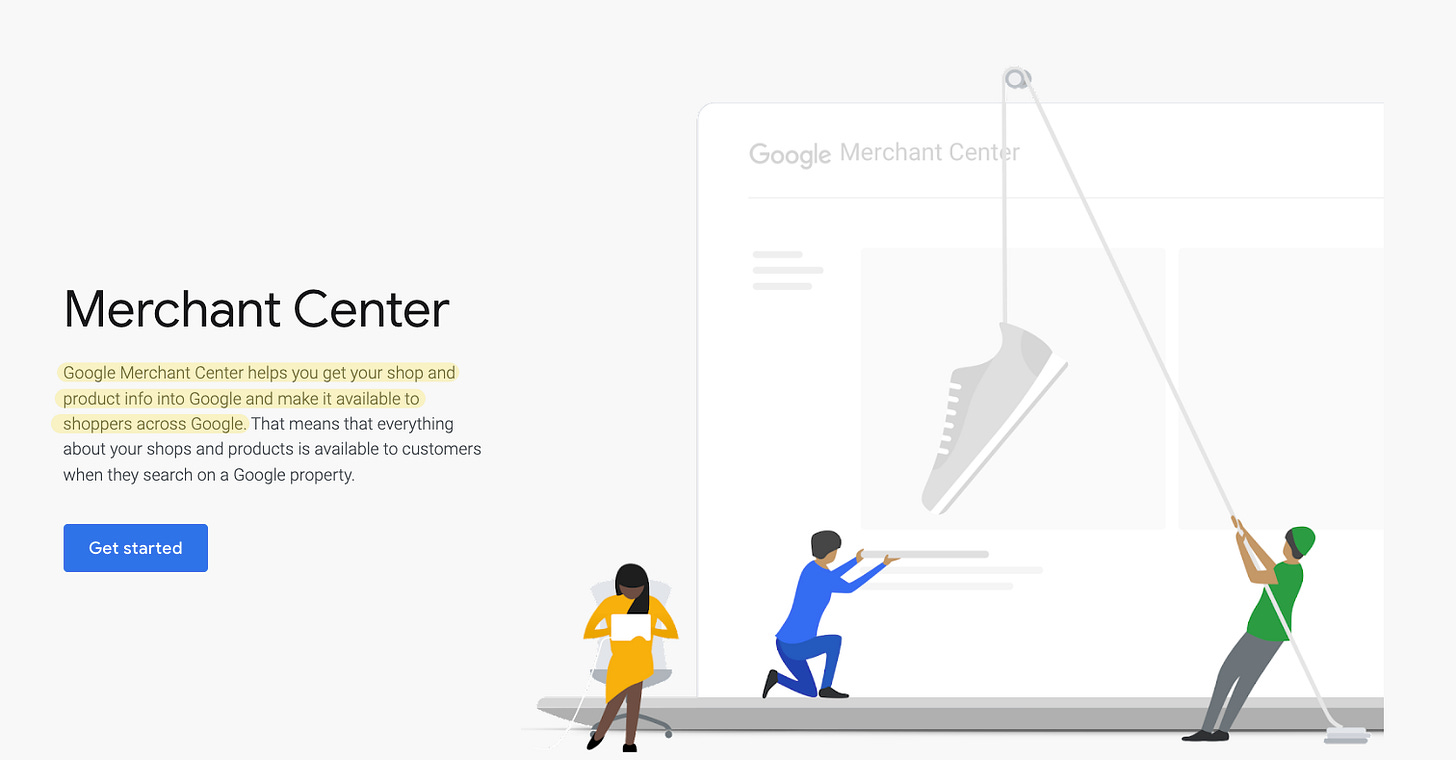 ---
Sit with you 1-on-1 & create a content marketing strategy for your startup. Hire me for paid consulting. If you're looking forward to winning online, here's how I can help:
Write blogs, social posts, and emails for you. Get in touch here with queries (Please mention you found this email in the newsletter to get noticed quickly)
Join my tribe on Twitter where I share SEO tips (every single day) & teaser of the next issue of Letters ByDavey.